Here at Animals Being Cute, we love to celebrate our nation's heroes. Every day, firefighters risk their lives to save others — and it's not always fire. For instance, take this stranded puppy who got the chance to save his favorite fireman right back.
Here's their story: 
SOUTH CAROLINA
Now, it all started in Charleston, South Carolina. Captain Bryant from the North Charleston Fire Department received a call. Two bike riders reported that they could hear a puppy crying under a pile of rocks.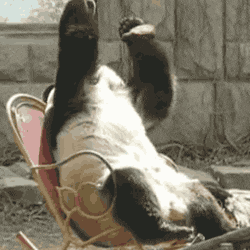 Captain Bryant rushed to the scene.
STRANDED PUPPY
Sure enough, somehow, a puppy there was stuck in a hole just out of reach.
At first, the little guy didn't want to come out — he was terrified, you see.
However, with a few gentle words and a little coaxing, the fireman finally got the little fella out.
As Captain Bryant held the stranded puppy and checked him over, he relaxed. Within seconds, the formerly stranded puppy thanked the fireman with some sweet kisses.
Captain Bryant placed the adorable puppy in a local shelter. Five days later when no one claimed the stranded puppy  — he went up for adoption.
NOT SO FAST
Well, when Captain Bryant found out the little guy was available, he knew exactly what to do. He filled out an application, of course.
"He's my dog and he's coming home with me" — Captain Bryant
As you can see in the photos above, the puppy, now named Rocky, was thrilled to see his new dad. Rocky couldn't stop giving his favorite fireman adorable puppy kisses.
FOREVER HOME
Captain Bryant told reporters that it was fate that he got the call that day. He and Rocky are super happy at home together.
Rocky is even a new mascot at the fire station. The brand new best friends, though, are having the time of their lives going on adventures together.
You can follow along with their adventures on their Instagram if you want.
Check out Rocky and his new dad in the video below: 
Share this story with your friends to thank our local heroes like Captain Bryant today.
Featured Images Screenshot from AnimalKind Stories via Facebook
Leave your vote
This post was created with our nice and easy submission form. Create your post!